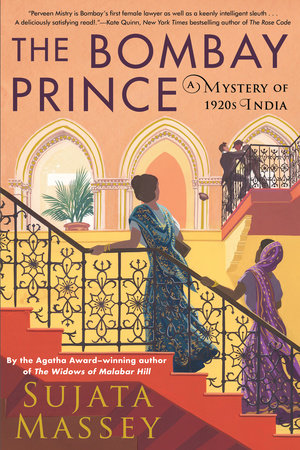 Award-winning author Sujata Massey will return to the History Book Festival for a discussion on "The Bombay Prince," at 5 pm Thursday, August 19, via Zoom.
This is the third installment in her historical fiction series starring Perveen Mistry, Bombay's first female lawyer. A question-and-answer session will follow the author's presentation.
"The Bombay Prince" takes place in November 1921 when the Prince of Wales – the future King Edward VIII and ruler of India – arrives in Bombay for a stay of four months.
With the Indian subcontinent under British rule, Perveen is not surprised when local unrest turns into riots. But she is horrified by the death of an 18-year-old Parsi student who falls from a second-floor gallery as the prince's grand procession passes.
After consulting the young woman a few days before, Perveen suspects that her death was not an accident and steps forward to help the grieving family with the heavy matters of the coroner's inquest, even though his own life is in danger. in the midst of unrest in the streets.
Massey is the author of 15 novels, four of which are historical fiction set in the late British colonial India. The first book in the Perveen Mistry series, "Widows of Malabar Hill", was presented at the 2019 History Book Festival and named the best detective novel / thriller of the year by Publishers Weekly. The series also received the Agatha and Mary Higgins Clark Awards.
Born in England to Indian and German parents, Massey grew up primarily in St. Paul, Minnesota, but has lived in Baltimore for almost 30 years. She received a BA from Johns Hopkins University and wrote feature films for the Baltimore Evening Sun before becoming a novelist.
The program is free, but pre-registration is required. To reserve a place, go to historybookfestival.org.
Copies of "The Bombay Prince" are available on Browseabout Books at Rehoboth Beach, the official bookseller of the History Book Festival. Biblion in Lewes also has copies of the book for sale. Books purchased in either store are accompanied by a signed archival bookplate.
The main sponsors of the 2021 festival are Delaware Humanities and the Lee Ann Wilkinson group of Berkshire Hathaway HomeServices Gallo Realty.
In addition to the Lewes Public Library, the festival's virtual programs are supported by the Delaware Division of Libraries and Sussex County Libraries.
Now in its fifth year, the History Book Festival is the first and only book festival in the United States devoted exclusively to history.