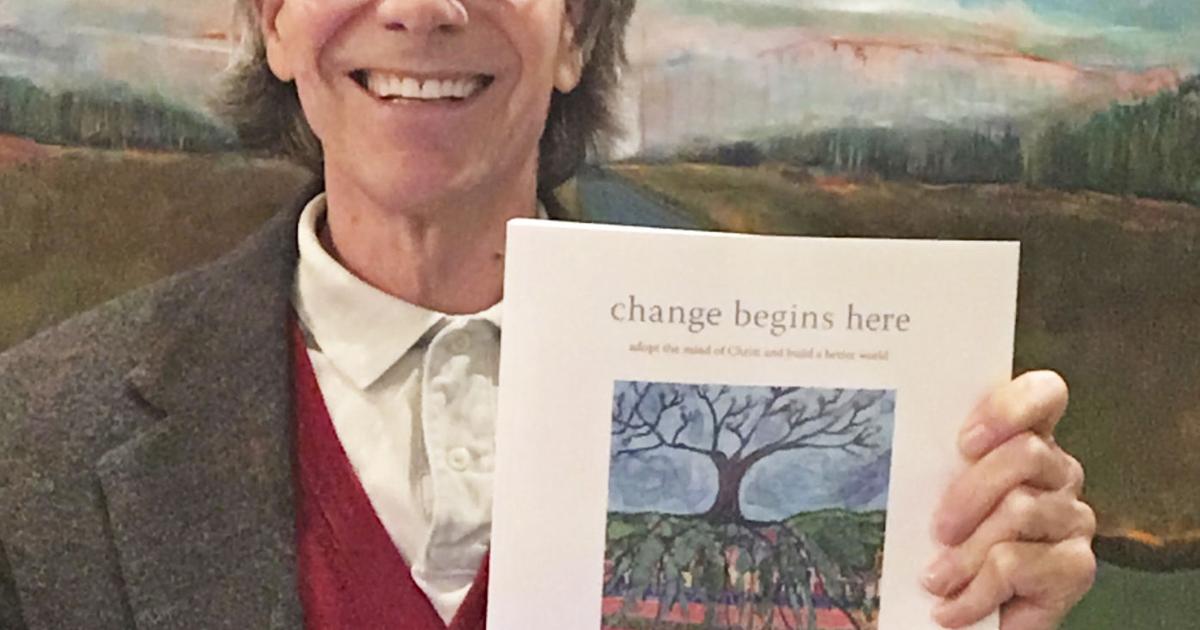 Over the past two years, the world has seemingly become a chaotic abyss of uncertainty, anger and frustration. From ongoing political conflicts to racial tensions and an unrelenting pandemic, there's no getting around the fact that those were dark days.
Under the pressure of this daily struggle, many feel exhausted. And Randy Siegel certainly understands that.
As an artist, author and motivational speaker, the St. Simons Island resident has a unique understanding of the human condition and how the cares of the world can weigh on a person. But, true to his nature, Siegel decided to seek the light, finding a way out of this suffering.
"Like a lot of people, I was completely overwhelmed. And, of course, I'm still overwhelmed. It's an unprecedented time, there's no doubt about it. And it's been a scary time," he said. conceded.
"It reminded me a bit of the story of Pandora's box in Greek mythology. When she opened the box, hunger, poverty and war poured out. Then she slammed the lid.
There was only one thing left in the box: hope. It served as a relatable metaphor for Siegel, who relied on his faith to navigate this new normal. And what he found gave him the inspiration to move forward.
"Although it's all a mess, it's also a time of great promise. So I became a man on a mission. I wanted to create a workshop in a book that serves as a call to action and helps us through this ", did he declare.
"Because a lot of times what happens is we become paralyzed and can't do anything or we take action, but none of those strategies produce lasting change."
The result is his latest release, "Change Starts Here: Embrace the Spirit of Christ and Build a Better World." The book offers a blueprint of sorts, presenting the reader with manageable methods for creating positive change by embracing Christ's compassion and loving awareness.
"I think we are at a crossroads right now. This has been called the "great disentanglement" or "the great turning point". We have lost faith in many institutions that we once trusted. We have all these questions as things seem to be unfolding, but at the same time there are these glimmers of hope around the world," Siegel said.
"Here it took the form of peace rallies organized around the trial (McMichaels/Bryan) or the work FaithWorks, Grace House, 100 Miles, Amity House, Safe Harbor… and many other groups do here daily. "
This collective effort to follow the proverbial march offers an example to the community. But Siegel's book also guides readers through exercises in introspection. Making internal change, he believes, is the only way to achieve lasting change.
"It has to come from within. I believe the way forward is to connect to that Christ consciousness or that oneness with the divine that is found in all faith traditions," he said. .
"We must adopt or assume this consciousness of unity. Christ Consciousness is more than thought; it is love in action.
Seeing divinity within oneself will help a person recognize that same spark in others. And not just in others, Siegel says, when you realize that spiritual connection, you can begin to make the conscious change that will eventually move the world.
"If there is anything that can heal our wounded planet with its immense problems of social injustice, ecological devastation, extreme economic disparities, war, conflict and terrorism, it is knowledge, understanding and a deeper acceptance that we all share the same planet, that all of humanity is one people, and that people and the environment are interconnected aspects of a single organic system," he said. he declares.
In her book, Siegel helps readers discover and nurture this connection through journaling, prayer, meditation, silence, and stillness. It offers a concrete path, outlining methods of engagement that will drive meaningful change – both internally and beyond. This, he says, includes practice and prayer, as well as spreading hope in the world.
"This is your clarion call. You are called to become an active participant in the transformation taking place in the world today; you are called to embrace a new consciousness that recognizes that we are all one. Each person can do a difference; together we can make a bigger difference," he said.
"The book is filled with exercises to help us dive deeply into changing our consciousness. It brings us to a point of action where we can take inventory of our gifts. Second, it shows us how to claim our gifts.
Siegel's book is available on Amazon and has been warmly received by local clergy and laity.
"It has generated good interest. He thinks it's so relevant to these times. I am also working on another series of books which I call 'Little Books' which are no more than 100 pages and feature all the letters of the alphabet related to universal spiritual principles," he said. "I have four published and will publish more in a few months. As I like to say, these are small books with a big message.
And Siegel feels that now, more than ever, humanity needs a powerful message. But while it's significant, it's also very simple, referring to one of Christ's key commandments – "Love the Lord your God with all your heart" and "Love your neighbor as yourself".
"Our very survival depends on global solidarity, because what concerns us affects us all. This has been the central teaching of almost all the great spiritual teachers and prophets," he said.
"We are keepers of the vision. We hold the vision of a new world by opening our eyes to a larger reality, recognizing a divine order where everyone and everything is interdependent and interdependent, acknowledging the divinity in all creation, and knowing in our hearts that by God everything is possible."